Are you ready to cook up a feast in an exciting traditional manner? Look no further than our spit pole hog roast machine kit, which comes with a 240v motor. This unique addition to our Platinum range not only provide delicious results, but it adds visual drama to any event too. A slow turning hog is a really exciting sight come lunch or dinner time and is sure to be a talking point for your event guests.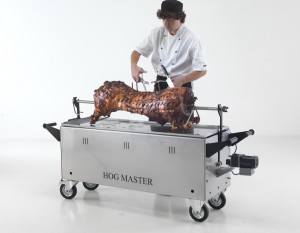 Our spit roast kit can cook a hog that weighs as much as 80kgs – a very substantial pig – so is great for feeding big crowds of people. Whilst it's cooking you can monitor the meat through the glass viewing panel on your machine before the real spectacle occurs – raising it up and carving it in the open air. Lift it up using the sturdy support bars and get ready for the amazing smells that come up with it. Then use the carving tray beneath to catch and warm your meat. It is heated by two thermostat controlled burners beneath.
A spit roast pole really is the ultimate accessory for a hog roaster so don't miss out on this brilliant addition to your machine. Get in touch to find out more.