Are you looking for the perfect hog roast machine? We have a range of exceptional hog roasting products to choose from. Our hog roasting machinery has been designed by experts, meaning they have everything you need to achieve a succulent roast hog for professional catering or home enjoyment. We know that planning the food for a special event takes a lot of hard work, whether you choose a finger buffet or a three course feast, but a hog roast is a simple and delicious option! Let our top of the range machines do the hard work for you.
Platinum:
The Platinum really is the ultimate in all Hog Roast machines! It has the capabilities to feed on the masses, it's perfect for large events, festivals or for cooking a range of options. It's advanced design really makes it a revolutionary machine and it is even more impressive to your audience. Hog Roasting has developed as a traditional cooking method over the years but this machine is already ahead of the times! The professional Platinum machine really is a high class, reliable roaster, capable of achieving so much more than you may have first imagined from a hog roast machine. Read more …
Titan:
Our hog roast machines have excellent reputations in the catering field. Alongside the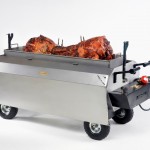 state of the art grilling and roasting section the Titan machine comes with pneumatic tyres and an easy steering system – ideal for transport during those outdoor events. It's known to be the 4×4 machine of the hog roasting world! The visual design of our machinery is another selling point too. The spectacle of a hog roasting is almost as important as the meat's taste, and your customers can expect a real show as the hog slow cooks, particularly if you choose our spit roasting kit. With a slick stainless steel finish, our roasters look nothing but professional. Read more …
The Best Range Of Hog Roast Machines
Titan Spit Roast
Platinum Hog Roast
Hogmaster Hog Roast
Hogmaster
The Hogmaster is one of the most effortless machines to use in the whole of the UK, it will produce the perfect pig time and time again. Regardless if you are a beginner or an expert chef you can still produce fantastic results. The design of the Hogmaster stands out from all other machines by being light, compact yet durable and reliable! You will be surprised to hear that due to it's advanced design it makes it the most affordable but best product on the market. Read more …
Hogmaster Pro
We designed our range of machines so that you wouldn't have to ever look elsewhere for a hog roast machine. No matter what your budget or need for a machine, we will have something to suit it, and that's exactly where the Hogmaster Pro comes in. This machine is perfect for household use, pubs, hotels or even as an addition to your hog roast machine collection. It has all the capabilities of standard hog roast machine, yet on a smaller scale, perfect for cooking up to a 35 kilo pig. Read more …
Decades Of Experience
When you buy one of our hog roasters you are buying into five decades of history in the hog roasting industry. Our machines push roasting boundaries and have satisfied a whole array of different clients – from hoteliers to street vendors. Alongside our machines we have a host of supplementary accessories too, from BBQ kits to water-proof covers and instructional DVDs. All our machines also come with a 12 month warranty, so you can rest assured you are buying a high quality product.
Wherever you are in the world, a hog roast machine can be dispatched to you with minimum fuss – get ready to get roasting! Due to their high demand, we stock hog roasters continually.
Aren't looking for a long time investment? Can't afford your own roster? Hiring a hog roasting machine from us is also an option, meaning you can enjoy the benefits of our equipment without committing fully. You might be tempted to purchase once you've given it a test run!