Specifications:
Length -184cm
Width – 78cm
Height – 93cm
Weight – 141 kilos
Cooks up to 70 kilo pig (80 kilo with head removed)
Cooking time of 1.5 hours for every 10 kilos of pig
Why The Titan?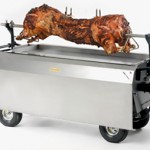 Are you ready to cook up a feast in an exciting traditional manner? Look no further than our Titan Hog Roast Machine! This is a unique machine which is a fantastic addition to our machines range, it not only provides delicious results, but it adds visual drama to any event too. A slow turning hog is a really exciting sight come lunch or dinner time and is sure to be a talking point for your event guests.
Our Titan machine can cook a hog that weighs as much as 80kgs – a very substantial pig – so is great for feeding big crowds of people. Whilst it's cooking you can monitor the meat through the glass viewing panel on your machine before the real spectacle occurs – carving it in the open air and get ready for the amazing smells that come up with it. Then use the carving tray beneath to catch and warm your meat. It is heated by two thermostat controlled burners beneath.
The 4 pneumatic tyres combined with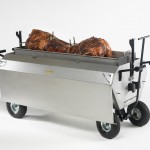 the steering system allows the machine to be moved effortlessly across any terrain, indoor or outdoor. Ever struggled manoeuvring your machine? You might arrive on site and realise you need to take your machine through a muddy field or maybe through a doorway to an indoor event, your struggles will definitely stop here! It really is the 'go anywhere' hog roaster!
The Titan is a fantastic machine for producing tender, succulent meat with famous crispy crackling that we know everyone loves. Enquire with us today to find out more information about the Titan or any of our other machines.