Our hog roasting machines are, simply put, the best on the market. Produced by experts in the catering field, we have a history of over 50 years in hog roasting and our machines reflect this. Our hog roast machines are a great investment for any catering business; there's something about a succulent pork bap that never fails to disappoint.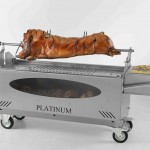 Our Platinum hog roast machine has the biggest capacity of the range to easily serve hundreds of guests at once, ideal for large wedding receptions, corporate events or music festivals. Our platinum range is equipped with dual cooking functions, a hog roasting pan and spit pole, and has been finished with beautiful aesthetics to match – in practical and sleek stainless steel. If the delights of pulled pork aren't enough, then other meats can also be roasted with our equipment. Get ready to produce large servings of roasted chicken, beef, lamb and vegetables. If a BBQ style taste is more appropriate, purchase our BBQ grill kit for that unique char-grilled flavour. Read more …
The Titan machine is by far one of the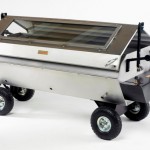 most well known hog roasting machines within the industry and with good reason. A well thought out designed machine, with pneumatic tyres which means the machine really can go anywhere, easily pulled over any terrain and small enough to go through a standard doorway. With the capacity to be able to hold a pig up to 80 kilos, you are able to feed up to 300 people effortlessly! You can also purchase any of the accessory kits for the Titan making it a fantastically versatile machine. Read more …
When it comes to wanting to produce the perfect pig effortlessly then the Hogmaster is your machine of choice. It doesn't matter if you are brand new to hog roasting or a well experienced chef, you will still be able to produce a succulent pig with crispy crackling to die for every time. The machine couldn't be easier to use and is the most popular hog roasting machine in the UK! The Hogmaster's new design with a glass viewing panel makes it a fantastic centre piece for any party and certainly draws over a crowd to watch the pig slowly roasting away. Read more …
However not all events require our
machines to cater for large numbers of guests or parties who want a wide variety of meats and accompanying dishes to be prepared. This is why we built our Hogmaster Pro machine! It may be a smaller machine but it comes jam packed full of versatility and has the same capabilities as the Hogmaster but on a smaller scale. We found the machine to be a great hit amongst hotels, pubs and even those who want to have the delicious pulled pork flavours at home. Read more …
Alongside the practical cooking features of our hog roast machines, you can enjoy ease of mobility. Our equipment can be used at many an outdoor events, designed with heavy duty castors to make transport and manoeuvrability as easy as possible. All of our machines come with a 12 month warranty too, which should put your mind at rest that you're investing in a solid piece of equipment.
Want to know more? Get in touch.