Specifications:
Length – 195cm
Width – 60cm
Height – 100cm
Weight – 163 kilos
Cooks 75 kilo pig head on, or 85 kilo pig head off, and ten boned and rolled legs and 150 jacket potatoes, or two 65 kilo pigs and 4 legs and 150 jacket potatoes all at the same time.
Cooking time of 1.5 hours for every 10 kilos of pig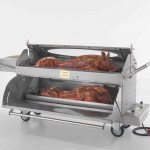 Like all our equipment, the Platinum Hog Roast Machine was produced with ease of use in mind for the end user. You don't need to be a professional chef to get great results. In fact, even someone completely new to catering could get delicious meat from our machines – time and time again. It uses two thermostatically controlled burners to give complete control of cooking temperatures, so there's no need for overcooked or under-cooked meat, it can be perfect.
Our Platinum Hog Roast Machine has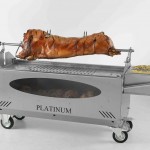 endless capabilities and the most capacity out of all of our machines. Allowing you to cook on both the upper and lower level spaces, it can be used to cook more than one pig (unlike with the spit roast kit), with room to cook a 70kg pig plus 80kg worth of pork joints! This will easily feed more over 300 people, a brilliant choice when catering for large crowds at wedding receptions, charity events and festivals. It has the largest capacity of any other machine available!
The individually controlled burners allows you to have so much more control over the cooking process yourself. You can choose to slow roast your meat and also safely speed up the cooking process if required, and that is why we will guarantee that you will get perfect results every-time!
Want to know more? Why not give us a call, or visit our showroom. With over 50 years in hog roasting, we're highly respected in the catering field and know what we're talking about. We'd be thrilled to help find the perfect machine for you!