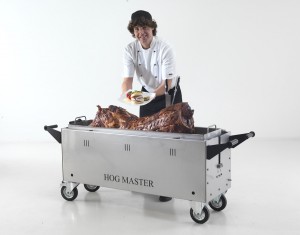 Price:  £1395.00 (plus v.a.t.)
Delivery: £100 (plus v.a.t.)
If you prefer, collection is Free from our Lancashire factory. Get in touch with us for further details.
The Hogmaster Hog Roast Machine Description
The Hogmaster Hog Roast Machine is considered to be the hardest working hog roaster in the UK! The Hogmaster is so tough, durable and reliable, that it can cook up to a 70 kilo pig.
These machines have been design to be very easy to use, you simply load the pig into the tray, score the skin with a sharp knife and pour on a jug of water and rub in some salt.
Then all that is left to do, is turn the machine on and leave the pig to cook. It can sit there and cook quite happily for 14 hours producing a succulent pig with crispy crackling and meat that just falls off the bone. The general rule of thumb for cooking pigs is for every 10 kilos of meat allow 1 hours cooking time. However, we would advice increasing this to 1.5 hours or even 2 hours, for better results and succulent pulled pork meat that literally falls off of the bone.
The Hogmaster will fit into most vans and estate cars and through most doors. Some of our customers have even told us, they've been able to fit two machines, side by side in their 4×4 vehicles. The machines are 180cm long, which can be reduced to 160cm by removing two handles if necessary. The width of each machine is 57cm and total height is 70cm, with a weight of 90 kilos.
This model is a hog roast, none turning machine, but you can buy a BBQ attachment for this machine. All the machines and equipment are manufactured in our factory in Lancashire, UK. We are open Monday to Friday 8am-6pm and Saturday mornings by appointment. Feel free to pop in anytime and have a look at our machines and have a tour of the factory. Everyone who visits is always very glad they did.
---
If you would like to buy a Hogmaster Hog Roast Machine, you can do so through this website, or alternatively, you can give us a call on 01452 899404 or fill in your details on the contact us page and we'll come back to you as quickly as we can.
Price: £1395.00 (plus v.a.t.)
Delivery within the UK from our Lancashire factory.
Click this "Add to Cart" button (Delivery £100 plus v.a.t.)

Collection is Free from our Lancashire factory.
Click this "Add to Cart" button. (Free Collection)