Specifications:
Length – 110cm
Width – 45cm wide
Height – 47cm
Weight – 30 kilos
Cooks up to 20 kilo pig
Cooking time of 2 hours for every 10 kilos of pig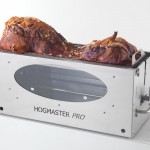 If you love pulled pork, then perhaps it's time to invest in your very own hog roast machine? A problem we tend to come across is that many people who want to have the great flavours of a hog roast don't have the room to store a hog roast machine. This is where the Hogmaster Pro comes in, its a perfectly designed machine that contains all the same qualities of our Hogmaster but in a much more compact form.
This machine has proved very popular amongst pubs, hotel chains and those who have bought a machine for home use.
This impressive, traditionally inspired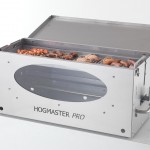 cooking gadget is striking yet easy to use, produced from slick stainless steel. It doesn't matter if you are brand new to hog roasting or an expert chef, it's very easy to produce perfect pulled pork from this fantastic machine. Just like the Hogmaster, the Hogmaster Pro is very versatile machine and with plenty of accessories available you can use the machine as a BBQ, to cook pizzas and simply as a mini oven.
All our roasters and accessories are designed to be straightforward for even those who are new to catering.
Give us a call today to discuss this brilliant upper level cooking accessory today. We are always happy to assist and share our hog roasting knowledge.